Jenny had another surgery today.
This time, she was awake the entire time, so I considered letting her live blog the entire procedure. But they said the anesthesia they were going to give her would make her very tired, so we took her cell phone away. Plus, I wanted her to save her energy so she could finish the laundry tonight.
(I'm kidding.)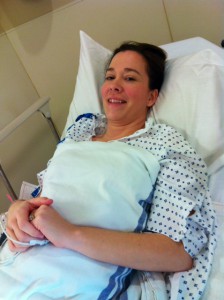 The procedure today was to place the port under the skin near her chest. That's where they will administer the chemotherapy for the next four months.
The surgery went well. We arrived at 6:30 a.m. Surgery was at 8:30 a.m. She was in recovery by 9:45 a.m. And we were on our way home by 10:50 a.m.
To the right is a photo of Jenny as she awaited surgery. It's a tradition for us to take these photos. She had no fear or concern with this surgery. She was supremely confident.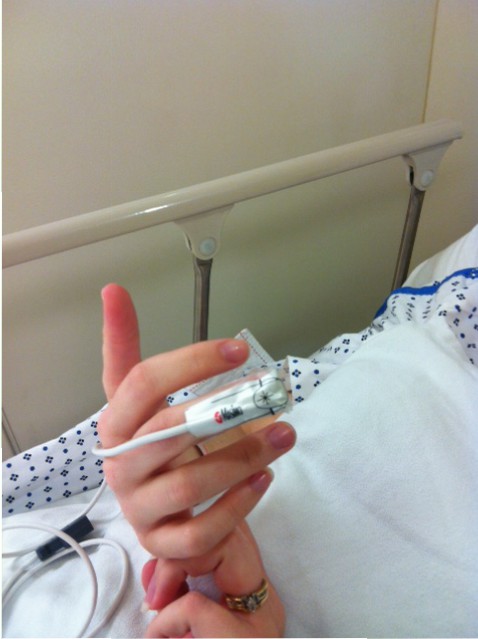 But I should note that she was really bothered by the tiny oxygen-monitoring device taped to her finger. It made her feel claustrophobic, and it was slightly amusing to hear her whisper-cussing its constant presence on her finger. We took this photo a few times, and this was the one that looked the least like she was flipping off the camera.
Coincidentally, Jenny chose Chick Fil-a for her post-surgical meal on the way home. There's something about that chicken and Jenny's surgeries. There were no pickles, of course. Not in my car.
Since getting home, Jenny has rested. She's sore. She says she doesn't remember reading much about people being sore after the port placement — and she's pretty much read the entire Internet when it comes to breast cancer. But the nurses assured her that she will be sore for a couple days and tired the rest of the day.
She will return to work tomorrow for a full day of action before focusing on her first chemotherapy treatment on Thursday.
P.S. – A special thanks to John and Melissa Miller, who welcomed our two youngest Herzberger children into their home Monday night, allowing us to make it to OU Medical Center so early this morning.
P.P.S. – And a special thanks to our oldest child, who is so responsible to get up before 6 a.m., and get himself to the bus stop on what was probably the coldest morning of the year.  'It was freezing,' he said. But then he reported that his friend arrived to the bus stop wearing shorts. Kids.