On July 3 — at Jenny's last chemo treatment — Dr. Razaq came to see her while she was hooked up on the infusion clinic. Jenny's only question that day was about the port.
"When can we take this out?"
She didn't like the answer. Dr. Razaq said that it could be taken after (or during) her final surgeries in Houston.
Jenny didn't like that answer.
When pressed, Dr. Razaq said it's standard procedure to leave the port in place for about a year in case they need to use it again if the cancer comes back.
Jenny wanted it out. She sort of insisted. Dr. Razaq relented. I've been married to Jenny for 13 years — she doesn't demand too much, but when she does, it's best to go along with it. Dr. Razaq appeared to understand that.
I even tried to reason aloud that she'd only have one possible week to have the surgery before radiation. It might be difficult to schedule. But Jenny had none of it. She wanted the port out before radiation. She wants no reminders of chemo. In case you missed it, Jenny did not like chemo. It was going to have to be this week.
After all, this cancer isn't coming back. It doesn't want to cross Jenny again.
So there we were this morning at OU Medical Center for her fourth surgery — the port removal.
She knew the routine. Arrive by 8:30 a.m. Blood work, IV hook-up, questions, answers, etc. Then we wait.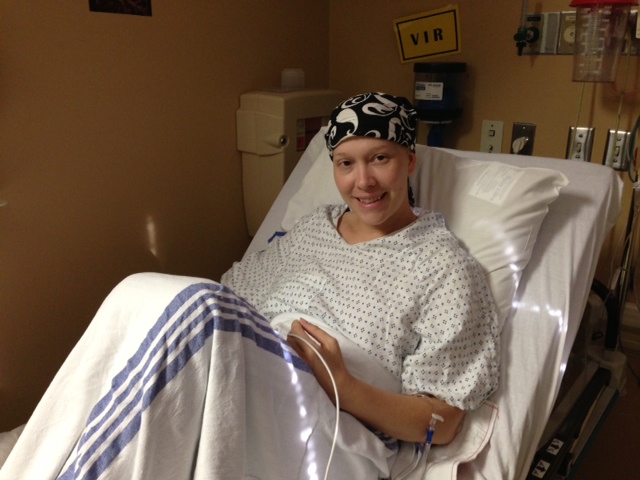 As we waited, Jenny proclaimed that we weren't going to Chick Fil-A this time for our post-surgical drive-through. It was going to be Freebirds.
Like I said earlier, I know how this works. Jenny didn't get to eat breakfast because of the surgery. We were definitely stopping at Freebirds on the way home today. But just for grins, I replied with a stern "Nope."
Then I witnessed something resembling this:

Surgery was scheduled for 10:30 a.m. At 10:15, they wheeled her back. I followed, and upon arrival in the waiting 'hallway' outside the surgery room, I found her iPhone under the blanket. Apparently, she really wanted to live blog this surgery. (I was just kidding about that last time — see surgery No. 3 — but she's clearly devoted to live updates.)
I took the phone away just in time — again (see surgery No. 2). There's no telling what she'll post to Facebook.
She was returned to the recovery room by 11:30 a.m. She reported falling asleep during surgery this time, but says she woke up when the nurses were bickering about the suturing process. Apparently, it was 2 against 1 on the proper procedure to stitch her up. Then they were commenting on her bleeding.
Then she heard a doctor-type poke his head in and say …
"Do you need me to scrub in?"
It turned out OK. She came back with a bandage, a headache and a trophy — the port.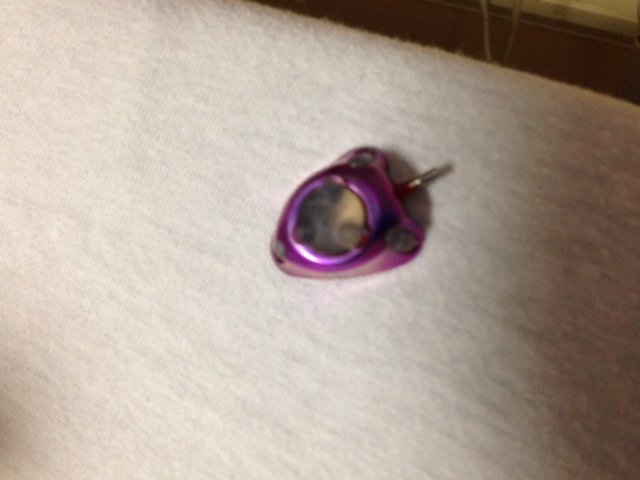 We were discharged at 12:45 p.m. We drove to Freebirds (she's done with you, Qdoba).
But the day took a sour turn after her long-awaited lunch. The headache returned. Nausea kicked in. Jenny was not feeling well at all.
We made it home in time, but Jenny was sick. When she gets that headache, it's really bad. It made her feel terrible. That has happened before (see surgery No. 1 and the post-surgical infection in late November).
The waves of nausea were not good this afternoon, but her biggest fear was the crippling headache. She had already taken the hard-core pain meds. If it didn't go away, we might have to make another trip to the ER.
But she seems to have made it past the worst of it. She's resting relatively comfortably now. She has some pain where the surgery was, and she still has a minor headache.
The worst news, though, is that she might not eat at Freebirds ever again. Since she became ill after lunch, it's probably going to be off her list.