Meet my radiation oncologist.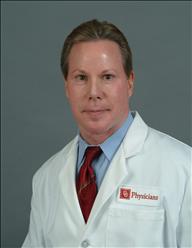 His name is Dr. Terence Herman. He is actually trained in hematology and radiation oncology. That means he could be my medical oncologist (Dr. Razaq/Dr. Moulder) as well as my radiation oncologist. Smart guy.
So smart, in fact, that I only understood about 30 percent of what he said.
The good news is that we had already met with a radiation oncologist at MD Anderson so I felt like I already had a lot of questions answered there.
I guess that's kind of sad, but it is honestly not the first time I've felt that way. When my MD Anderson oncologist gave me her chemo recommendation, she, knowing I would not be getting my chemo done there, had a pharmacist spend about an hour — maybe more — explaining the Adriamycin, Cytoxan and Taxol drugs to us. She went very in-depth about how I would feel, what symptoms to expect, how to prevent things. It was so extremely helpful.
At OU, no one told us anything about the drugs until I my first chemo treatment. By that time, it would have been too late for me to take some of supplements that I took leading up the first treatment.
Don't get me wrong, the pharmacist who sat with me before my first treatment was very nice. But, when I asked her about side effects I had heard about from the MD Anderson pharmacist and from forums of people going through these treatments, her answer was a very nice, "I've never heard of that side effect with this drug."
Also, she didn't talk to us at all about the Taxol. She said she'd do that before my first Taxol treatment. That never happened.
Also, for the record, I did experience those side effects I'm referencing. When I did, I thought to myself, "Maybe the pharmacist makes rounds during chemo to ask the patients what side effects they are feeling so she can better understand what she is talking about." That didn't happen.
Back to the radiation oncologist … He was very nice, but the amount of medical terminology he used was so heavy that I was very lost.
Here is what I know, though. I will have a CT scan on July 23. This scan will help them set up all of the radiation fields so they hit the right areas on my body. I will start radiation on Monday, July 29. My last day will be Sept. 13.
They will focus on the breast area, the clavicle area, armpit and the lymph nodes on my sternum. There will potentially be some damage to my right lung, but I'm lucky that my cancer was on the right side because my heart will be safe.
The major side effects are fatigue and skin problems — which we already knew.
The GREAT news is that I do not have to have my expander deflated for radiation. We weren't sure what his preference would be about that, but he said it didn't matter. I was glad to hear this because going seven weeks with a deflated right breast would probably be difficult. I can't just wear big, baggy shirts to work every day. Plus, it would mean extra trips to Houston.
He kind of lectured me about having a tissue expander for the first part of the appointment. It felt like a lecture, anyway. As it turns out, Dr. Herman's resident said that the patients through the OU system generally don't have the tissue expanders at the time of surgery. (We asked after Dr. Herman left.)
Basically, they do not spare your skin which leaves you fewer options for how to reconstruct and a less desirable cosmetic outcome, from what I understand.
It really surprised us because we thought that since OU was a cancer center, they would be what we are considering more progressive. At this point, we haven't heard of any breast cancer treatment facility in OKC that would do a skin-sparing mastectomy.
Once again, I'm so very glad we went to MD Anderson last fall. Thank you to all who encouraged that and supported us through that. It was definitely the right decision.
While discussing a few differences in how MD Anderson handles things vs. how OU does, Dr. Herman talked about how the OU Stephenson Cancer Center has just as good of doctors and the same medicines as MD Anderson. I don't know if I am qualified to agree or disagree with that, but it definitely got me thinking about it.
We've had a frustration or two with MD Anderson in our time there, but at OU it seems to be a continual thing. While I've voiced a few of those on this blog, there are several that I haven't voiced, too.
So, assuming he is right about the doctors being just as good, I think that my quality of care is so greatly affected by all of the "other things" that keep happening. I know that OU Stephenson Cancer Center is still new, but I feel like it is making some crucial mistakes by not focusing more on the patient experience. That beautiful facility and the "just as good as MD Anderson" doctors don't make up for it.
BTW – I'm THREE DAYS AWAY FROM BEING ALL DONE WITH CHEMO!
My mother-in-law sent me my official chemo bell, since OU doesn't have one. It is from her collection of bells and just so happens to say July. Pretty awesome, huh?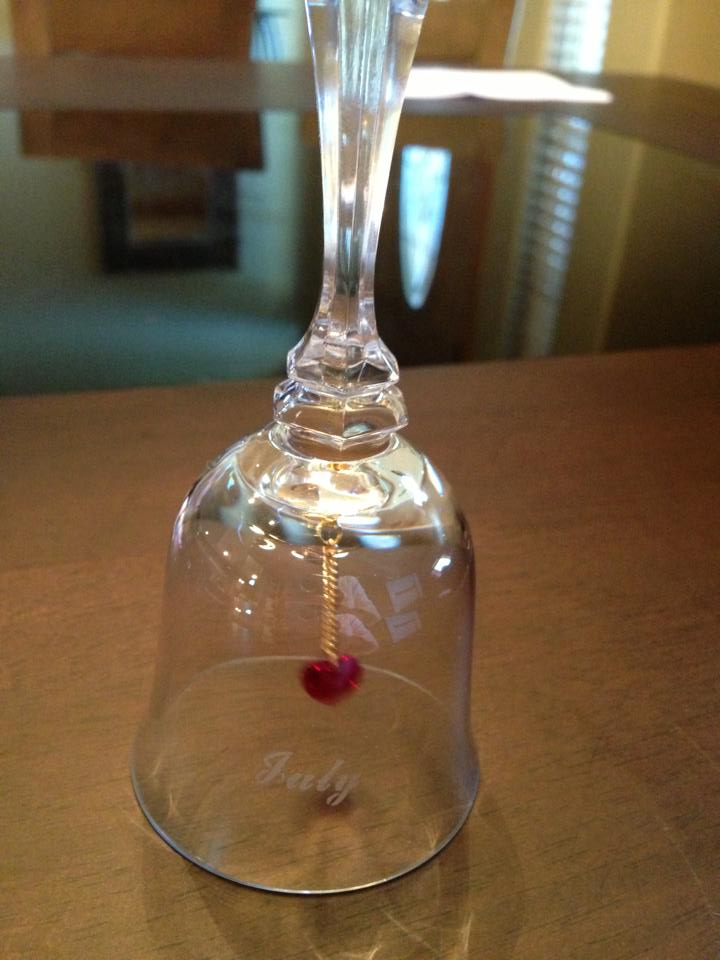 My friend Dana found this song that we could sing.
"Pack your bags. Get out the door. You don't need chemo anymore!"